Lot 98-1-1b West Bay Road, West Bay, NS (MLS® 202114873)
$175,000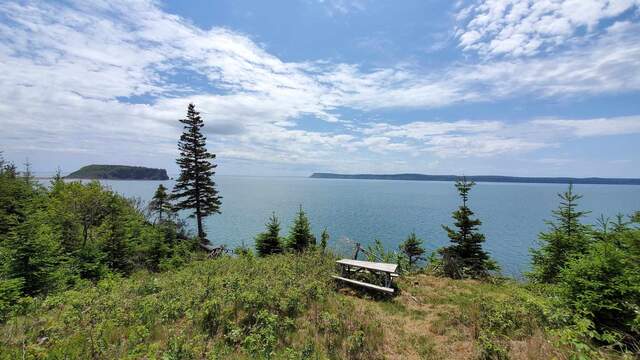 Status:For Sale
MLS® #:202114873
PID:25392481
Type:Cottage / Rec. Properties
Style:Camp
Listing Price:$175,000
Last Updated:Mar. 29, 2022
Listing Date:Jun. 14, 2021
Days On Market:347
Bedrooms (Total):3
Bathrooms (Total):2
Title To Land:Freehold
Land Size:435,600 sq. ft.
Lot 98-1-1b West Bay Road, West Bay, NS (MLS® 202114873): Private with a bird's eye view of the Minas Basin / Bay of Fundy. Consists of two rustic cottages off grid, with no current water source nor proper septic. Property is being sold as is where is excluding contents, although some items may be available upon request. Just 2.5kms to the beaches at Partridge Island. This is definitely a nature enthusiast little piece of paradise.
Listing Courtesy of: Viewpoint Realty Services Inc.(Antigonish)
Cottages and outbuildings
Personal items and some furniture.
| Bedrooms | Bathrooms |
| --- | --- |
| Bedrooms (Total): 3 | Bathrooms (Total): 2 |
| Bedrooms (Abv. Grnd.): 3 | Bathrooms (Full): 1 |
| Bedrooms (Bel. Grnd.): 0 | Bathrooms (Half): 1 |
| Level | Type | Dimensions |
| --- | --- | --- |
| Main Floor | Bath 1 | 7.5 x 7.8 trailer |
| Main Floor | Bath 2 | 3.4 x 7.8 cottage |
| Main Floor | Bedroom | 14.1 x 11.4 cottage |
| Main Floor | Bedroom | 6.6 x 11.6 trailer |
| Main Floor | Family Room | 10.3 x 11.6 trailer |
| Main Floor | Kitchen | 7.7 x 15.1 cottage |
| Main Floor | Kitchen | 12.8 x 11.6 trailer |
| Main Floor | Living Room | 14.9 x 11.8 cottage |
| 2nd Level | Bedroom | 7.9 x 13.1 cottage |